Popsical Karaoke – Is it worthwhile?
Karaoke session is a lot of fun and a fantastic stress reliever. Nowadays there are several Karaoke places for us to choose from. Karaoke is a fantastic pastime for family and friends. It's not only a lot of fun, and for some people, it may also help you tone your singing abilities up a notch or two.
But going to the Karaoke place will cost a bomb. You may be considering the most cost-effective option for karaoke. If you hadn't heard, Popsical is here to offer a unique Karaoke experience. Popsical Malaysia offers Popsical Karaoke, which is the ideal entertainment for both kids and adults. It's a fantastic way to enjoy singing and save money at the same time!
What is the Popsical Karaoke system? Why is it different from the usual Karaoke place that we go to? From appearance-wise, the Popsical is a palm-size Karaoke device that works wirelessly where you can just connect to the internet to function. It's true that you can use it as a small Karaoke machine, but once you connect the Popsical gadget with a sound system and TV, it will immediately transform into a Karaoke machine similar to those Karaoke places we went to.
Now you might think it's just another Karaoke device like we see on the market. There are a few types of Popsical Karaoke systems that you can purchase. First, we have the latest release – Popsical Remix II.
You can purchase the Popsical Remix from Popsical Malaysia. The Popsical Remix 2 priced at RM1599 is a full-featured home karaoke system with a beautiful touchscreen user interface that brings lovely design and excellent sound to any area of your home. Not only that, but it boasts an almost limitless selection of classic and the latest hit songs, as well as a karaoke system unlike any other. Providing you with the opportunity to enjoy karaoke as it was meant to be.
Popsical aims to simplify your Karaoke experience without any complicated setups, software and high-end equipment. The Remix 2 has everything you need in one box, all you need is a smartphone and a TV and you can use it to sing along to your favourite songs at any time and place!
The Popsical Remix 2 comes with 2x wireless rechargeable microphones so it is easy to move around with your mic without the cable getting in the way and also no more using the AA batteries.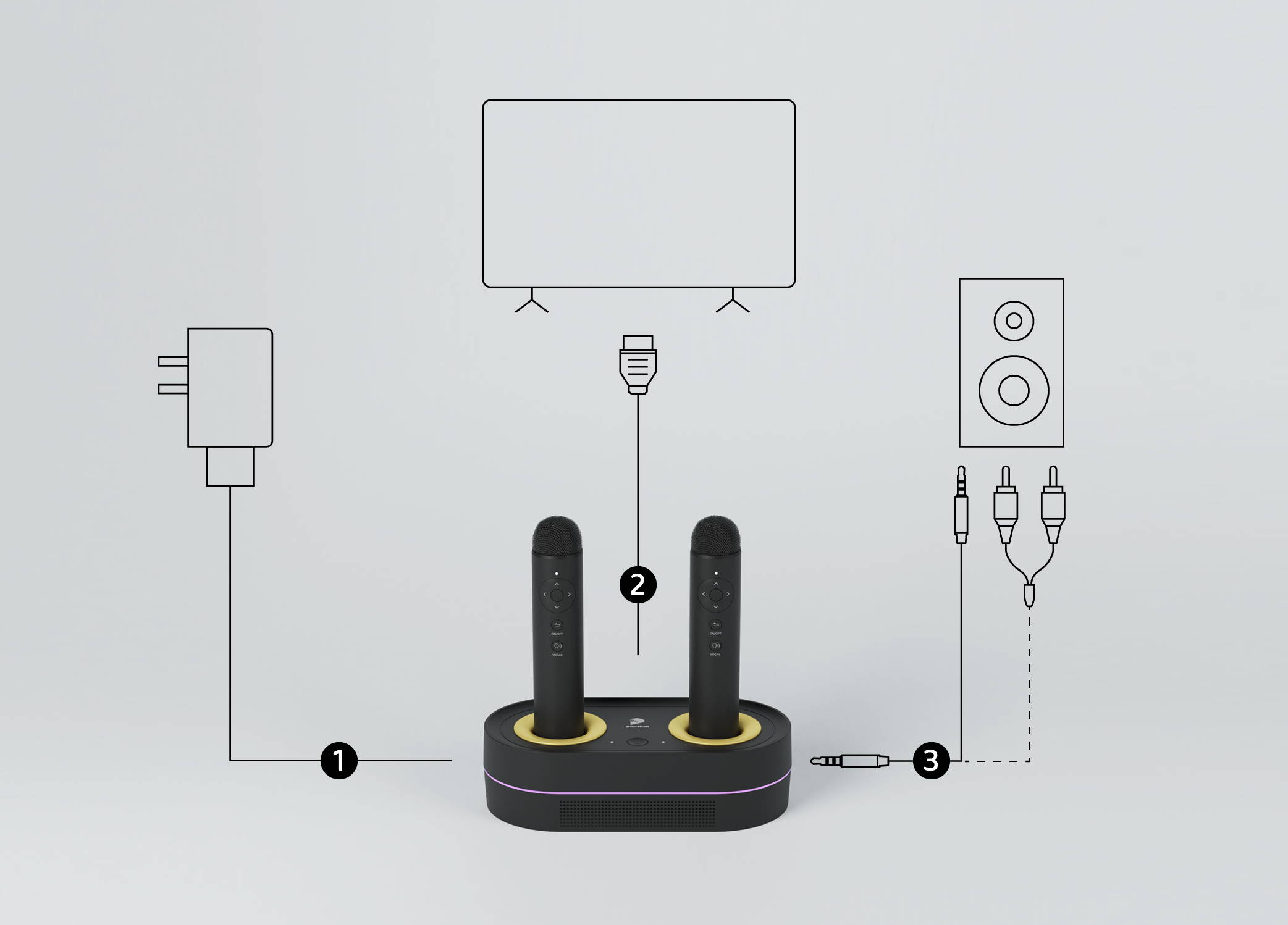 How to operate the Popsical Remix 2?
Connect the power adaptor from the Remix 2 into your power source
Connect the Remix II to your tv via HDMI cable. Preferably to your HDMI ARC port if your tv supports it.
Link to an AUX/RCA input speaker for a better experience. Link to your speaker is optional as the Popsical Remix 2 works perfectly fine with just the TV alone.
If you are looking to link to your speaker here's how:
To feel like you're in the Karaoke room, you can connect to an AUX/RCA input speaker.
The most common type of connection to achieve the best Karaoke experience for karaoke systems is (AUX/RCA). Because Digital Audio connection (Optical Cable) has a fixed limit on how audio travels from the source to the speaker, which can cause singing delay, analog audio (AUX/RCA) is the preferred option when compared to Digital Audio (Optical Cable).
Other than that, the Remix 2 has an Artificial Intelligence scoring system. It will judge your singing and give you a score every time you sing a song. The system also has a cloud-based library with over 230,000,000 songs in 14 different languages.
To enjoy the Karaoke system, you will need to download the Popsical Karaoke mobile app available on iOS and Android devices and subscribe to their music plan either a 24-hour plan for RM5.99 or a monthly subscription for RM14.99.
Other than the Remix II, you may also check out the Popsical Duet Bundle, selling at RM999. The Duet Bundle, also comes in two premium rechargeable microphones.
Popsical Duet Bundle: https://lovetubuy.com.my/product/popsical-duet-bundle/
We make it easy for you to find new songs from different languages, which you can sing along to with the lyrics on your screen. Singing has never been this fun!
The Popsical Karaoke system is a great way to enjoy singing with friends and family. The Popsical Remix mode is a lot of fun, and the quality of the sound is excellent. Overall, Popsical Karaoke is a great product and is definitely worth purchasing.
If you're looking for an enjoyable karaoke experience, Popsical is the perfect option. With its high-quality sound and Remix mode, it is sure to provide hours of fun. Whether you're with friends or family, Popsical is the perfect way to bond over singing.
Additional Popsical Karaoke Resources:

1. Learn how to use the Popsical Karaoke Mobile App
2. If you are still considering whether to buy a the Karaoke System. Here are Ten Reasons Why You should be choosing it.


---
Follow us on Facebook/Instagram for the latest news & promotions.
Lovetubuy Facebook: https://www.facebook.com/LoveTuBuyMY
Lovetubuy Instagram: https://www.instagram.com/lovetubuymy/